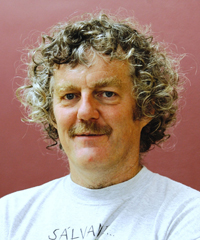 ---
Department
Geography Geology and Planning
Role: Faculty
Campus: Springfield
---
Postal mail
Missouri State University
Geography Geology and Planning
901 S. National Ave.
---
Biography
Dr. Kevin Mickus is distinguished professor of geology. His research involves the interpretation of gravity, magnetic and electromagnetic data for crustal and upper mantle structure plus for resources (mining, geothermal), environmental and archaeological applications.
His studies have included the Ouachita orogenic belt in Arkansas, Oklahoma and Texas; Precambrian boundaries in the Pacific NW; the Mojave extensional terrane in southern California and western Arizona; the east African Rift system in Ethiopia, Kenya and Botswana; the Atlas Mountains in Algeria and Tunisia; and volcanic fields in California, Antarctica and Arizona.
Environmental and archaeological applications include using gravity, DC-resistivity, electromagnetic and GPR data.
---
Details
Education
PhD, Geophysics, 1989, University of Texas

–

El Paso
MS, Geophysics, 1985, University of Texas

–

Dallas
BS, Geology, 1982, University of Washington
Teaching
GLG 110 Physical Geology
GLG 171 Environmental Geology
GLG 318 Physical Oceanography
GLG 360 Directed Field Trips
GLG 590/690 Applied Geophysics
GLG 591/691 Seismic Data Processing
GLG 794 Global Tectonics
Research and professional interests
Applied geophysics-tectonics
Mineral exploration
Environmental geophysics
Geothermal exploration
Professional organizations
American Geophysical Union
European Association of Geoscientists and Engineers
Geological Society of Africa
Geological Society of America
Society of Economic Geologists
Society of Exploration Geophysicists
Awards and honors
CNAS Atwood Research and Teaching Award, College of Natural and Applied Sciences, Missouri State University, 2020
Research Award, College of Natural and Applied Sciences, Missouri State University, 2012
Geological Society of America Fellowship, Geological Society of America, 2012
Research Award, Missouri State University, 2004
Additional resources